Madison & Naomi – Round 2
$19.95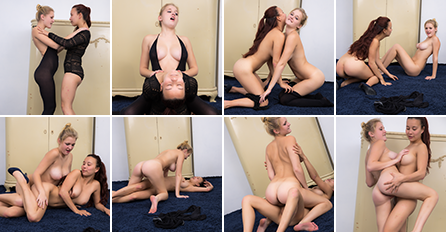 Description

Amount of photos in album: 106 pictures
Resolution: 3744×5616
Video Resolution: 1920×1080
Length: 10:09
Video Thumbnails:
Above.
Got something to discuss?
---
Guest
Guest
Guest
Thank you for making this happen. Maddie and Naomi are the best.
Guest
Nice! Two of my favorites.
But I think this is a perfect example in the disparity of Pricing that keeps popping up in the comments section. 19.95 for both amazing girls doing just about anything, vs 29.95 for nothing new for a different model a few days ago. I get that it's different for each circumstance, but as the consumer, it's a difficult reconcile.
Guest
The models set their own prices, basically. The TM team are really just webmasters and they let the models shoot their own content and set their own price.
I think this is a good system. Models can make content at the prices they choose, and we can choose to buy are not.
Guest
Guest
I hope this series to end to a…three digit number of rounds!!! 😀
Guest
Pitp With Lili refereeing, just picture it boys how great would that threesome be for masturbation material? Share your thoughts on the idea.
Guest
nice to see two beautiful models together
Guest
Guest
I am interested, but some of the 'acting' from these models in these types of videos has left something to be desired. Do they look into it at all, or is it pretty fake?
Support
Maddie is having fun with it. Naomi is not faking at all.
Think of it as Maddie being the playful one and Naomi being the bossy one.
Guest
I would love to be the boss of them and join the party.
Guest
Maddie kind of hams up the performance, but it's worth it to hear her screaming those two words.
Guest
Just ordered mine! I cant wait!
Guest
This was good thanks! Both models are beautiful and props to Naomi for continuing to model while dealing with Psoriasis.
Guest
My two cents:
I appreciate the progression for these two and it leaves one wanting more, which is part of the goal. These girls are stunning in any format.
Gripes:
I appreciate authenticity. It was fun to hear Maddie scream, but it came across as fake, which ruined the effect. Whether there is an orgasm or not isn't the point, so long as the girls are authentically enjoying themselves.
Naomi closes her eyes more throughout these latest videos than any other. Maybe for some they think she's enjoying the moment, but for me, it's like she is going through the motions and pretending to be with a guy.
I know we don't want to compare other models, but it has to be said that other pairings are easily more erotic, simply because the girls appear to actually enjoy what they're doing. I don't want these girls to feel pressured into doing something they don't want to do. It completely ruins the experience.
In my opinion, it seems like Naomi would rather not do these types of sets. As an alternative, and if at all possible, I'd recommend Daniela and Maddie. Maddie is playful enough, and Daniela has no problems taking charge in a proper way.
Verdict: Somewhat disappointed
Guest