Lili – TableTop
$11.95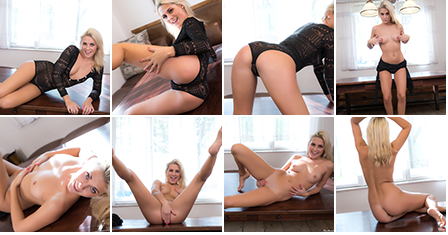 Description

Amount of photos in album: 100 pictures
Resolution: 4480 x 6720
Video Resolution: 1920×1080
Length: 10:14
Video Thumbnails:
Above.
Got something to discuss?
---
Guest
Well that was an unexpected surprise this looks new and hopefully back to a two week cycle! Lili looks amazing one of the few sets I feel the photos are as good or better than the vid… great work!!!!
Guest
just wanted to back john up on the two week release cycle, certainly gets my vote preferably even sooner. lets hope we get a response from our TM overlords regarding this issue and fill all us lili slaves in with a shooting/release schedule.
like you say some of the pictures say numbers 27, 28, 29, 80, 81, 89, 90, 98, 99, 100 seem to bee pic exclusive angles if only they had put these angles in the video release, would have easily been in the top 10 lili video releases with those angles included
john any favourite pic numbers for you?
Guest
Guest
Thank you TM for releasing this one a little earlier 🙂 2020 continues to please. really great set and video, I love the poses and the closeups. I didn't say it before but I too am a fan of the natural sound that this + Slayer had. I hope she shot a lot more sets that day 😀
Guest
While I do very much agree with this being another great set and 2020 continues to please very much indeed 🙂 I actually really dislike the videos with what you call "natural sound", the audio of TM videos used to be so nice with a high quality audio track added in, nowadays it's more often than not some low quality music played from a phone or some kind of cheap radio during shooting. Luckily the mute button helps solve this to some degree.
Anyway, at least in my opinion, the audio quality of TM videos isn't what it used to be.
This isn't true for all TM videos though, some models like Kayley still have the good old high quality audio, though those videos tend to have "visual issues" rather than audible ones.
Sorry for the complaining, nevertheless, this is a incredible picture set, really enjoyed it! Lili is and will always be the queen of TM! 🙂
Just starting to wish I could buy the picture sets separately.
Guest
I see your point, my feeling is it's all in how it's executed I guess. If i hear Mr. camera man breathing heavy during the whole video it probably wasn't executed well, but If I can only hear the model and some light background music I like it better. Like you said, that is why we have a mute button. There have been a few videos in the past that I did not care for the music, so I just mute it. So I am saying if muting and putting your own music on is always an option I prefer they start out this way, but for me it's minor compared to the visual 😛
Guest
Blaatschaap, would you not like to hear the directions being given by the videographer/photographer to lili during video shoot and photo session i know i would love to hear it would really heighten the atmosphere during the shoot and heighten my orgasm.
regarding your wish to purchase pics separately which were your favourites in this release? my favourites being no. 27, 28, 29, 80, 81, 89, 90, 98, 99, 100 so hot and fuckable.
Guest
For me hearing the videographer/photographer kind of breaks the video. To me hearing / seeing / or some way the model acknowledges the presence of the videographer/photographer breaks the intimacy between model and viewer. For a backstage style video that's all good and actually nice to have it in there for a "regular" video on the other hand, I find it ruins the immersion.
Therefor my problem with the "natural" audio where you here the music is clearly played from a source at the shoot is exactly that, it breaks the intimacy / immersion.
That's just my opinion and I have no clue if it's shared by others.
Perhaps it's also why I prefer pictures over video as it's so easy someone is actually standing there taking the pictures.
That said, I can perfectly understand you feel otherwise and hope you enjoy the videos all the more because of it 🙂 🙂
For me, the most favorite pictures from this set are 7, 18, 41, 63 ,83, 98 and 100.
Guest
wanted to agree with andrew regarding release schedule hopefully it can go to 7/10 days
also andrew what would your opinion be on hearing the videographer/photographer's dialogue/direction of lili during shooting?
i would absolutely be turned on by the idea of it just imagine lili bend here, leg on the table here, spread your legs to here, push your tits together hold, hold look at the camera hold those tits. to only imagine if it could further with dialogue like lili how does it feel to know as you have your tits pushed together all the people at home watching are wanking to you.
maybe impossible but you never know just putting it out there, hopefully get some other comments regarding this thought
Guest
I am pretty in line with what Blaatschaap said. Immersion with the model is important. I do enjoy hearing Lili talk (or smack her bum) on occasion though 😀 A mix of both 'natural' + music can work well I think. (xmas uncensored video) Experimenting with different methods can be beneficial so I at least like where your head is at b79. I always hope to see something new or unique to a Lili set that I haven't seen before.
As far as the release schedule goes… I think selfish me always just wants as much Lili as soon as possible 😛 While I would love to go back to the steady 14-16 days we used to have, I understand that Lili might not have the time she once did to shoot new sets.
Guest
Happy 36th birthday Lili!
Guest
Don't you think you exaggerate a bit? 🙂
Guest
I think it's time for poses like this open and free. Unleashed! Will we ever see it?
Guest
JohnieD just imagine how marvellous the video would have been if the video footage had been included from the picture exclusive angles from pic's 27, 28, 29, 80, 81, 89, 90, 98, 99, 100
it would have been very close to a unleashed set.
which set in your opinion has come closest to being the most open/free and unleashed that lili has released thus far?
Guest
not only did the day leap, so did my heart
Guest
I would love to take her on that table top
Guest
hoyguy certainly pic's 27, 28, 29, 80, 81, 89, 90, 98, 99, 100 so unbelievably fuckable, slightly apologise for the crude response lili and tm just make me so damn horny.