Lili – Marvel Holiday
$11.95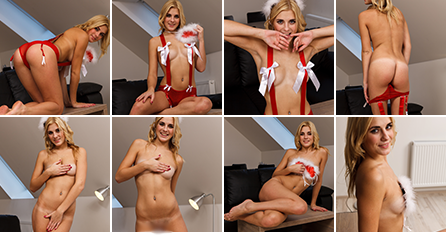 Description

Amount of photos in album: 124 pictures
Resolution: 4480 x 6720
Video Resolution: 1920×1080
Length: 9:59
Video Thumbnails:
Above.
Got something to discuss?
---
Guest
Lili is sooo gorgeous in this early session, It's one of my absolute favorite era's of her. I had a peek of this one 2 years ago so I already knew I'd love this set. I'm really hoping there still might be room under the Christmas tree for more Lili this year though. 🙂 🙂
Guest
Lili the perfect christmas gift I love to unwrap and enjoy
Guest
the stretched wait time between lili fixes 21/22 days since the last update 19 days before that, excruciating indeed however when lili's update arrives brings me amongst other things a sense of peace and tranquility. till the next excruciating wait that is, of course. tease queen/extreme tease, no doubt.
I always wondered why there was never a separate/dedicated website like heidy's now, dedicated to lili I'm sure there will be many valid reasons personally I have never heard the reasons mentioned maybe I have missed that particular discussion would be interested to hear about it though, weekly updates sure would help to get through that back catalogue you yearn over andrew.
good lord lili's body varies from set to set in an absolutely wonderful way but tanlines and full ready to milk tits really is an awesome lili combination don't you think, like you point out Andrew awesome era, speaking of which what else is from this era? majestic is this from the same era that pink thong unbelievable arse and pussy shots? fishnet wow those full tits in that see through top with the nipples poking out wow, sheer robe? princess?
undertits in braces in this latest release which are splendid to say the least now if we could only get more undertit shots in small tops, heaven. the tit shot whilst lili girates her glorious backside as she leans on the coffee table whilst her tits are oogled from the floor below angled up with lili's tits hanging love that angle in this latest release really is a thing of masturbatory lili slave's heaven.
when lili's tits are as full as they are here lili seems to really get into fondling her full milkers and does her best trying to extract/ejaculate the milk inside those beauties, I also very much enjoy watching her playing with them till she milks them. oh the fantasy, primed to shoot milk out of those beautiful full tits as I shoot my load, wonderful
maybe to much sharing? to explicit? I will leave it to tm to decide tribute withdrawal's from me I think
peace
Support
Guest
Guest
enthusiastic and detailed as always b79 haha. well Lili did have bigger breasts in some of her very early sets but I don't think milk had anything to do with it. 😛 That's one of the best part about these different sessions over time. It's almost like a new Lili each release. She is always very fit, but this one in particular really shows her curves. Her hair is also really lovely here. I also loved the below boob shot leaning against the coffee table as you described, top notch photography.
every time I see this particular session I fantasize that Lili will just drop her hands and be free so we can enjoy everything in full. Luckily for us 'Fishnet' gave us a very splendid view already, which is why it will always remain one of the very best. Absolutely in top 5 of my all time favorite photo sets she's done.
You are spot on with the others from this session. You got them all right, and you only missed 1 which is 'Shower Love' a personal favorite of mine for obvious reasons.
Guest
Andrew thanks for taking the time to respond and I sure do hope you are right about another lili release, has it been usual for lili to have multiple releases during previous Christmas/new year events?
its just that can never get enough of lili fear/nagging lurking in my mind about the 16 days officially to go of the current Christmas/new year event and if I remember correctly there is a day or two added at the end of the Christmas/new year event making it 17/18 days, just with lili's current release schedule of slightly longer than that, what do you think unheard of to only have one lili release during a Christmas/new year event? or has it happened before?
also other than holiday cheers, Christmas, another Christmas in the Christmas classic bundle, Christmas returns in the 2017 bundle, lili Christmas uncensored, year end bundle 2018, nutcracker was that a 2019 Christmas release? seasons greetings, lili & kayley Christmas and now the current marvel holiday did lili have other releases during previous Christmas/new year events, if you have the time let me know your findings.
also Andrew thanks for pointing me in the direction of shower love, I missed that one off my list as soon as I saw your post I knew you would be on it as I know you have spoken very fondly of lili's "wet" sets being some of your absolute favourites.
peace
Guest
good list of Christmas Lili, b79. I should definitely make a Christmas only playlist and watch them now that we have such a collection to enjoy. You could count a few other Christmas sets as well. 'Glimmering Gift' was released on Christmas day 3 days after 'Another Christmas' for instance in 2016. Classy, Caretaker 2, Grand Prize 2, and Wow from last year I also think of as holiday sets. Classy and Wow outfits are pretty "Christmasy" and the others are from the winter event and are spectacular… to say the least. Lili has always really enjoyed Christmas, and I think it's her favorite holiday. She also has several pre-TM holiday sets as well that are all really amazing. One of those later sets she wears a very skin tight red latex outfit with a santa hat…god how I would love to see that one revisited.
sorry for this late reply…been busy distracting myself, but yes all I will say is that Lili and TM winter event historically make for a very fun time. I wouldn't stray too from away from the site if I were you.
Guest
you were not wrong Andrew about straying to far only six'ish days since this release to the current naughty or nice release, lili Christmas heaven & thanks for the response above some wonderful releases you mention I personally always did love the classy release you point me towards lili has such a great sexy vibe & energy & not to forget an unbelievably cock stiffengly/stiffingly sexy outfit on of course wow the cameltoe shots/angle, heaven. just perfect long legged blonde goddess cock teasing perfection I had actually forgotten how hot that release was so thank you for reminding me.