Lili – Elder Goddess
$11.95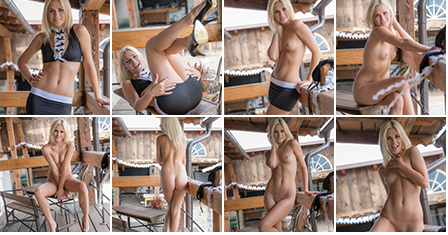 Description

Amount of photos in album: 100 pictures
Resolution: 4480 x 6720
Video Resolution: 1920×1080
Length: 9:50
Video Thumbnails: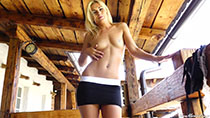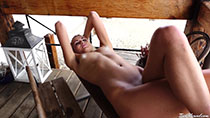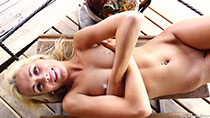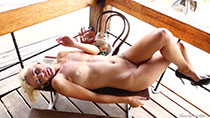 Got something to discuss?
---
Guest
Elder Goddess?
Elder: no
Goddess: YES!!!
Guest
For real! I may not be a big fan of her's, but she is no "Elder" .. Seriously, I was offended for her by that. WTF?
Support
Please guys, you're making me do a vocabulary lesson?
She is the Elder of Marvel. It doesn't have to mean actual age, in this case it is seniority and who came first. She was modeling when most of our current girls weren't even in middle school. There is no model with as much experience or years under their belt as her.
Guest
Original Godess would be appropriate, don't you think? All others are just pretenders to the throne until Lili (God forbid) decides to move on or retire.
Guest
Haha, a new meaning of O-G. I don't care about the semantics, I just want more sets. This one is my favorite of any of the recent sets by any TM models. I don't know what it is, but I loved this one. I think its the outdoor lighting, and how comfortable and confident she looks here. If she keeps modeling into her 80s I'd probably keep buying because she keeps getting better!
Support
Thanks. We didn't want to give too much away in the previews. 🙂
Guest
Guest
On board with use of elder and her earned respect in that. Society does seem to have tarnished aging and seniority where it should naturally hold said respect, only tarnishing themselves through individual sour choices.
Guest
She certainly is far from a "teen." Let's not get hung up on semantics.
Guest
Lili was,is and always will be the Queen of TM. I suppose we're all just waiting for her Unleashed set. She's been looking especially HOT these last few sets,all hail the Queen 🙂
Guest
Dude that's not happening unfortunately,I had my hopes up for the event set but it might have been a little overhyped still pretty damn good though!
Guest
Elder? She is far and away the most gorgeous girl on this site. Young, sexy Lili is the Queen.
Guest
Gorgeous yes, the most? No. That would be Kayley.
Guest
Guest
Elder? Really? If Lili is an elder, then I must be dead. What does she think of this title?
She looks amazing in these previews. Can't wait to see it.
Guest
I'm sure it's not intentional, but Elder? That is not a compliment! You are supposed to be promoting her, not inferring she's old. Look for a synonym to replace that word please.
Support
Elder is a compliment. And as described above, we're not talking about actual age. Regardless, you can be young in age and still be an elder. For example, a high school senior could be considered an elder compared to a freshman.
Guest
Elder Gods in terms of Gods just mean more powerful, more wise, greater influence folks… lol. At a certain number, old is just old for a God/Goddess, so that's irrelevant in this case. She truly is my Goddess, Oh Mighty Isis… erm, Lili! 😀
Support
It was a play on words, yeah.
And thanks. 🙂
Guest
The elder discussion was pretty amusing I gotta say. 😛 Lili has just been at it so long she just makes modeling look effortless now and always looks beautiful doing it. Anyways, this is a very nice outdoor set, and felt like a nice continuation of her 'Backyard' set. I wasn't expecting a Lili set today so it was a nice surprise.
Guest
Rather than "Elder Goddess" let's call her the Goddess Queen! Frankly, don't care what she's called, just glad we have new releases to enjoy, so thank you admin!!
Guest
lool you guys get offended so easily. My English is not my first language and i understand what TM meant. If what you thought is true does it makes Lili less beautiful!!. By the way guys you know that even beautiful girls like Lili gets older and also Neverland doesn't exist.!!
Support
Lili sets just get lots of attention.
Guest
Deservedly so,she gets more beautiful with each new set.
Guest
in other comment threads you have said you are open to ideas, personally i would really like to see more of lili pose indoors on a bed like cuddle, black mesh 3, scarlet, sleepover, private tutor, unwind, pastease, glimmering gift, rainbow, bedroom act, red ribbons, sheer lace, shredded mesh.
in outfits like enchanting, beloved, Pestering Pasties, spoonful, unwind, black mesh, lace peek, seasoned, another christmas, mesh peek, naughty officer, fishnet, mirrored, shower love, pink peek, fire chief, post it girl, micro bikini, stars and stripes, flight, heartbreakers, red ribbons, bobysuit, premier.
to name a few of my favourites but instead of what usually seems to happen have lili leave her knickers on when she takes her bra off so she doesn't have to cover her pussy with her hands for the rest of the video(often half) so we can have lili really spread her legs like unwind, pastease, rainbow, another christmas with long slow shots/held still from behind
as lili does not seem shy at all to show her pussy when she has her underwear on, different when knickers come off, seems to get shy(no problem whatever the goddess is comfortable with if she wants to do fully exposed pussy shots/spreads wonderful, obviously that's fine with me also, but this seems like to bold a move were as what i am requesting, she would seem to be perfectly comfortable with)
and we can get a really good look of that ass and pussy, so instead of having to slow the video to catch a few seconds we could really have a good slow lubed up wank while oogling lili's ass and pussy in underwear of course, with occasional glimpses/or full on static shots of her perfect little tits while lili hypnotises us.
instead no sooner has lili taken of her bra to expose her delighful little tits than she has taken of her knickers and either covering with hand or twisting about so we dont get a chance to see for me, perfect shots from another christmas time 4:45 to 5:35 (if you are not familiar load that video up and grab your cock, lube, and see what i mean, so hot) or unwind from say 6:29 to 6:50. these are obviously just a few examples there are many others i could mention but hopefully we can have a good discussion of everyones favourites and titillate and turn on one another with videos or moments we may have forgotten about
longish i know but have been viewing and buying for years and have never seen any substantial sexual/horny discussion be posted in the comments thread maybe you are overloaded with emails and the like but is much more titillating if we could have open discussion attached to the videos, i know i really get turned on reading comments beyond the usual
thanks
Support
Oh wow, you're quite the Lili connoisseur.
Your suggestions are good to know. The "Another Christmas" video also came to my mind while I was reading your comment. We certainly do have videos like that coming.
Discussions like the one you're looking to read not only help you but help us understand what gets you going. Thanks. 🙂
Guest
Lol this was hilarious! Very funny but I can surely relate to everything you say man. She is the only model I've ever known who shows more with her clothes on. Video is over for me after the panty kick most times…then its "Shit! Shit! Where was that one part? I thought I memorized the time stamp!!' .rewind…rewind…rewind. haha But still to me she is the best there is, the best there was, the best there will ever be. Not just hot or sexy….she is fucking text book BEAUTIFUL.
And I know she will never go to some extremes like some other models have nor do I want her to. She is way to classy for the hands on stuff. I don't want to see her with power tools or accessories. But I would LOVE to see MORE of her more often. The only thing that puts me off and makes me weary of buying a set is when you get to a certain level at least maintain that amount of tease. Hate to buy a set and see way less than the one before. I would gladly pay more to see more. And now there are so many new models here and at MC it takes forever for us faithful "One woman Men" to get another chance to see our favorite. You should open a 3rd site for up and comers until one of the pros retires lol.
But Anywho, what do I know. I know the day I hear Lili has actually retired for good is gonna be one sad fucking day in this boys life. Love you Lili.
Guest
elder adjective …. prior or superior in rank, office, or validity
The Queen
Guest
Sweet mother of Jebus!!! This is an instant buy for sure… all hail the Elder Goddess!!! Amazing work yet again TM and Lili.
Guest
A meet and greet with this beautiful Goddess would be heaven for us guys
Guest
wow , lili you are getting more daring
i have a question for teenmarvel do you show the girls our comments and translate them if needed
Guest
Really loved this video. Looks like Lili has been hitting the gym more because she is in great shape and looks better than ever. I'm glad to see that she is more comfortable with nudity and she looks very relaxed and sexy in this video. Thanks Lili (and TM) and I hope to see more like this soon.
Guest
I love that she updates often. Sorry to ask here, but is the other original TM mod Luna retired?
Guest
I second that, Luna is the second best model to ever grace this site. I miss her too. Lili is number one but the long lost Luna is a very close second. Is she ever coming back ?
Guest
Another wonderful set with an extremely flattering dark wood grain for background keeping optics from washing out Lili's beautiful tone. She looks ready for adventure!
Guest
come on guys lets discuss masturbation to lili, not the semantics/definitions of individual words. were does this release fit in your personal lili favourites? do you like to listen to the original audio or put on a more sexual/teasing video/audio to get you in the mood?