Lili – Caretaker Sequel
$14.95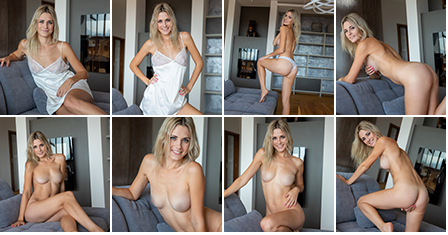 Description

Amount of photos in album: 145 pictures
Resolution: 4480 x 6720
Video Resolution: 1920×1080
Length: 10:00
Video Thumbnails:
Above.
Got something to discuss?
---
Guest
It's Lili nothing more needs to be said
Guest
Post-hiatus Lili 😀 😀 😀 I still miss her iconic belly ring, but damn I went nuts for this session when I got my first tribute of them. I hope everyone enjoys her "enhanced" features in this as much as I do.
Guest
What happened to her ring ?
Guest
She had to remove during pregnancy, I think it probably got pretty irritating to keep in. I don't know if the piercing closed up over that amount of time or not, but it doesn't seem like it will make a return even as of very recently.
Guest
Yes, her belly button seems to protude a bit because of her pregnancy, so maybe her piercing doesn't fit anymore? It hasn't come back from what I could see yet.
Guest
What "enhanced" features??
Guest
Her breasts, may be ? They look a bit changed after her pregnancy.
Guest
Ok, so I wasn't the only one who noticed her breasts are larger now. One of the benefits from being a mom 😉
Guest
"Enhanced" = "extra perky"…Love it!
Lili doesn't even look like she was pregnant…a body to make other women jealous, and men swoon!
Guest
Thanks DB, this is exactly what I meant 😉 The previews don't give it away either which I like.
Guest
I want make love with her body..pure beauty
Guest
Finally, something after her break 🙂 I'm happy ! Thank you !
Guest
Idc if she shows her or not. I just love this girl. Need more feet shots though
Guest
If you have an eye for a pretty lady you will appreciate how she looks and moves. There are some really nice sets that are quite entertaining . If you really like and admire a pretty woman you will love this woman.
We live in a world where women can be bullied and coerced and just give in as they dont want to displease so its always nice to see her just giving us the show she is happy with.
As the saying goes, if you're happy im happy.
Guest
What a great set from lili & she certainly still has "it".
Nice natural make up / hair & a well lit / photographed set.
Not only has she kept her great figure, but we have new improved boobs (not that there was anything wrong with them before) 🙂
She is still the queen.
For those complaining for more exposure, the previews are a good indication of what you are going to get. If you don't like the previews don't buy. Don't buy and then complain the set is something you wished it was.
We'd all like to see a little bit more – it's the nature of the site – it's subtitled extreme tease for a reason. If every set was a little bit harder than the last one, we'd be into some pretty extreme stuff by now & the site would no longer be what brought us to it in the first place. There are enough sites out there that cater for harder stuff already.
Having said that, I'd love to see a grand prize sequel to follow the caretaker sequel 🙂
Guest
To me, Lili is amazing!
I don't know why it seems important to some people to focus on what this update doesn't have.
I rather focus on what this update does have and the fact that we're even getting in the first place! (which in my mind is nothing short of a small miracle by itself).
Lili still looks so very incredibly beautiful! If anything even more so.
If I wasn't told about a hiatus, I wouldn't have noticed it from this set. Well maybe because of her "enhanced features" I would have 😉
Guest
her smile has always been what has attracted me too her. to me it wouldn't matter how her hair or what clothes see wears she's just plain beautiful.
Guest
I think she looks absolutely stunning in this set, not everyone is a fan of fake tan, over the top makeup and hair extensions, to me theirs nothing sexier than a natural beauty like Lilli and I think the photographer really brought that out in this set.
Guest
wow i love her bigger boobs. incredible body, beautiful lady.
Guest
I am a fan of having a variety of both natural look Lili along with some super done up + sexy revealing outfit Lili. I got so distracted by the video that I didn't give enough credit to the photo set. Tons of amazing pictures. #113 and beyond is just perfect natural beauty on display. I love to see that from her. Lili has just gotten a little too masterful with some of those hand placements at this point in her career though 😉 😛
Guest
This is a "New" set after motherhood.. You can tell by the change in her belly button :p
If it at all possible she is even more beautiful now then ever 🙂
Guest
TM I have a great idea, as you see some of your models taking their next step in their private life. What to think of changing the name of the website from Teenmarvel to Mommymarvel 😛 😆
A little joke to change the mood here
Guest
Nice choice for the set still photo. Lili looking happy, healthy, and holy-mackerel!
Guest
I love Lili, have followed her since the newstar era.
I hope she gets brave and include having fun with the other girls in the future! 😀
Guest
Lili has one of the most BEAUTIFUL bodies i've ever seen. OMG…!
Guest
ok, my official guess for unlock level 12 is Lili baby oil. Lets see if I still need to work on my detective skills or not 🙂
Guest
I am a little late saying this but:
Happy New 2021 to Lili and all other beautiful models and also to the photographers at Teen Marvel.
Guest
guys definitely late to the discussion but lili's nipples are spectacularly awesome in this vid (i appreciate the concealment and restraint of commentators and moderators, as it most certainly heightened my arousal upon the reveal), i had the absolute honour and pleasure of a peek or two of lili's new mommy tits before this vid, but nothing like seeing them revealed in there full glory at about 5 mins 40 seconds for the first time proper, still jerking off to them as i type.
everyone has probably already bought, but if you are unsure or on the fence let me give a little push if for no other reason than the awesome nipples on show in this video.
Support
Good boy, serving your Queen.