Lili – Boat & Mirror (Double)
$19.95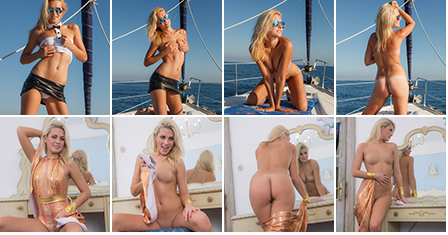 Description

Amount of photos in album: 149 pictures
Resolution: 4480 x 6720
Video Resolution: 1920×1080
Length: 20:33
Video Thumbnails:
Above.
Got something to discuss?
---
Guest
Happy 200th release, Lili! (Though this double set is listed as her 189th Teenmarvel release, on an individual basis Mirror is the 200th! x x x)
Guest
You aren't counting the two full sets we have been able to tribute for though. I personally count them as full releases myself, so in my eyes 'Devoted' was actually #200. I suppose the tribute ones could be considered a bonus since they don't appear on the site, but yea it's 200 or 202 depending on how you look at it. 🙂
Either way, it is a big congrats for Lili for hitting this milestone. I am just glad there are still many more sets left to enjoy!
Guest
Wow, I didn't know about two full sets being available through tributes. I know about the pregnant set – not got it yet, but I will.
Question to TM: What is the other one and how do I get it – i.e. how big a tribute and what do I put in the tribute note? Thanks!
Support
Birthday and Mother Goddess contain her pregnant sets.
1 tribute for each will get you them. the note should just say "Lili pregnant" or something similar.
Guest
Thanks for clarifying. I think what confused me is that the discussion link I received was the same with both Birthday and Mother Goddess. But if I buy two tributes at once and note that I would like both pregnant sets, hopefully that will work. I'll email if I have any problems.
Guest
Lili photographer man, (wherever you are xD) … thank you for the long hold at the end of the 'Mirror' video. We get to just sit and enjoy the moment and it was lovely. 😀
Guest
Lilli boat sky water, leather-skirt frontal win.
😀
Guest