Kayley – Bubble Bath
$29.95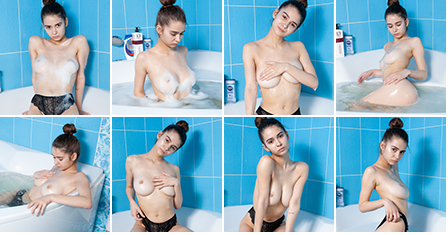 Description

Amount of photos in album: 104 Pictures
Resolution: 3744×5616
Video Resolution: 1920×1080
Length: 6:13
Video Thumbnails:
Above.
Got something to discuss?
---
Guest
Is she fully topless for an extended period,60s, of time where the camera is center focused on her bare breasts?
Guest
Yes. If you're a Kayley fan, this is a must-have. Pics are really nice, the video is hot.
Guest
I am a fan of many models here. But for 30 bucks i dont want to see 20 fade aways from her breasts. I want the camera focused on her breasts in the video for extended periods of time. I've been burned a few times in the past with these super expensive sets that promise the moon but give you a slice of cheddar
Guest
I agree – and not just cos I want to see the breasts! Stylistically, the camera fade means that the video editor is performing the tease. I would much rather have the model do the tease herself.
Guest
Hi Kay, Thank you I feel the same way. TM won't post my comment but they posted yours.
Guest
Two Kayley videos in one day! This one looks extremely hot. Love how Kayley has been coming out of her shell recently. Thanks for sharing your amazing beauty Kayley.
Guest
Oh god thank you !! Hope to see soon that tease in is last set at MC ! Love you Kayley !!
Guest
Wow! The ***** tease at the end of the video, I wasn't expecting that!!! Thank you for a wonderful November to remember Kayley and Teenmarvel!!!
Guest
Niceeee. Can I do my opinion: The video (whatever she can do the same) should have minimum 10 minutes. The photographer should try make the video in this time. This is only my opinion. She is pretty. Photographer makes good work but I look and download only videos. The photoshoot is not interesting for me.
The photos for me must have artistic way. Video is this more sexier site when I can be only with model and have a good feeling.
Thanks, and sorry for this message.
Kayley ass is awesome and I think so many people thing the same at I.
Guest
who takes a bath with their underpants? 🙂
Guest
Kayley gets wet and slippery on this one!
Guest
In addition to the full breast power, don't stop watching after the general end and additional scene is added with a very good joke… 😀 😀 😀
Guest
Guest
Hottest video so far… great pics set!! Kayley… you are most wonderful!!
Guest
Guest
I sure hope that the ****** teaser set has sound, I would mortgage the house to hear her!!!
Guest
Kayley really is just perfect, beautiful, cute, sexy, great legs, great ass, and her face and hair are unforgettable. And those breasts are perfect.. And I'm normally a small breasts guy. And this video… The best. My favorites are shower and tub, so this is a dream come true.
Guest
Absolutely beautiful! But for now I think I'll wait to purchase more when she is completely nude!!
Guest
I assume the double entendre on the front page is intentional.
Support
It's a good way to end the november challenge some were doing…
Guest
It's a great set,I do like the tease at the end of the video,I hope we wont have to wait too long before we start seeing all these teases you've been hinting at finally come to fruition 😉 A suggestion,Kayley has such beautiful long legs and a nice bum to top them off,I would like to see more of them including finally unveiling that nice bum.
Guest
My first comment post and I find myself practically at a loss for words. Hands down Kayley has got to be the most magnificent young lady I've ever laid eyes on. There simply aren't enough adjectives to describe her beauty. Drop dead gorgeous comes to mind but still falls short. If Lili is the queen of TM then Kayley must surely be the princess in waiting, and this set shows why. When she flashes that smile… Pure heaven. I was hoping for a shower or bath set and my hopes came true. Thank-you TM and of course thank-you Kayley.
Guest
Best I've seen of Kayley!
Guest
That tease at the end of the video just totally wrecked me, no sleep and anxiety. I searched the store for sets of other beauties and god I am going to be pacing the floor mindlessly and endlessly. We all know what we got last year from Kayley! Maybe we will hear her voice!
Guest
This set looks like pure heaven! Top to bottom, everything about her is utter perfection. I simply love it when she smiles. Those braces just adds to her beauty and innocence! Well, not too innocent hopefully!
Guest
If you have doubts about this one I promice its more then worth it! Best set to date! TM DELIEVERS! <333
Guest
All u guys bitching about the price and the content…. f,n man up and spend the damn money. If you bought the earlier sets you can obviously tell this is above and beyond the others.
Guest
Just viewed the Vid… WOW!!… She has really stepped up her game… I have been viewing models for years… have seen hundreds… this is the only one who have ever gotten me to pay… I love this girl… I am ready to pay if she offers another like this
Guest
I never comment but, man, I just had to say how much I enjoyed this video, and also how much I appreciate Kayley. She has come a long way since she started and, hell, it can't be easy to show so much of yourself to strangers, so kudos to her for having the courage to show that bit more than usual. Here's to her continued growth as a model and her success–hopefully she continues to become more comfortable and confident!
Guest
I will most definitely buy again when she is completely nude!!!. Kayley is very pretty