Katrina – Swing Chair
$11.95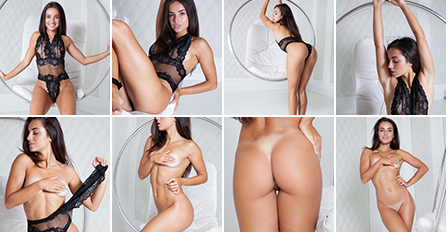 Description

Amount of photos in album: 160 pictures
Resolution: 3744×5616
Video Resolution: 1920×1080
Length: 7:54
Video Thumbnails:
Above.
Got something to discuss?
---
Guest
Guest
This has to be a newer set,Katrina looked great.
Guest
I recognize this chair!
Is there a single chair in the entire world that has been ever been sat on by a finer collection of asses than this particular chair? I doubt it, but if so, please provide proof :). Ohhhhh, the stories this chair could tell. Seriously, you should consider auctioning this chair to highest bidder.
Guest
man oh man, is she ever perfect!!! OXOXOXOOXX always a must have
Guest
This looks so damn hot. I'm downloading it right now! Katrina is so amazing. Her body is more than phenomenal. And her butt is insane. Thanks TM. Wish she'd update more often!
Guest
I don't believe this is a "newer" shoot. Katrina (Karina) has at least one tattoo now and has had her lips injected. Maybe had her nose worked on too…but I can't tell for sure…maybe it's just her new fat lips that makes it look different. She's planning on more tattoos against my advice, much to her displeasure at me for advising her against doing that. From her latest photos elsewhere, it looks like she's done something with her eyes too…maybe it's just different makeup…but…I don't think so. Didn't ask her about her nose, eyes and lips since she got so pissed off at me for mentioning her tattoo negatively. Still has that wonderful, fit little body as far as I know. Hope she'll stop with the hand-bra constant cover-up, which ruins the rhythm of the shoot and leaves me with the impression that she's mainly concerned about her fans not getting to see anything, rather than just letting it go and doing her artistic and beautiful poses I know she is fully capable of doing. Told me once that she's okay with full nudes, but wants to be paid for it, so I'm not sure if it's her or her photographer who keeps self-censoring. Still a good shoot however, and definitely worth the paltry $11.95 fee!
Support
She looks the same in her recent photos. In fact we shot her this year and she did not have a tattoo or injections. Don't spread information if you're not sure it's true. If she has a tattoo now, I don't see it, but if you have a photo then I would allow it.
She's okay with being nude, as long as it is an artistic style. She is essentially nude here, which is exactly what she means when she says she's okay with it. We've had discussions with her about it, she's definitely not going to open her legs or make a big reveal, but we will work with her on loosening up a little more if she's fine with it.
Guest
A clear case for the vote down option :p
Support
I know you're joking, 😛 but I don't want people arguing about their beliefs here. Everyone here loves our models, so only healthy discussion is allowed. Remember TM is supposed to be like the Disneyland of modeling where everybody is happy. 😆
Guest
"TM is supposed to be like the Disneyland of modeling where everybody is happy"
TM, why not make it a reality? 🙂
There are a total of 12 Disney Princess ;
1. Snow White (Snow White and the Seven Dwarves)
2. Cinderella (Cinderella)
3. Aurora (Sleeping Beauty)
4. Ariel (The Little Mermaid)
5. Belle (Beauty and the Beast)
6. Jasmine (Aladdin)
7. Pocahontas (Pocahontas)
8. Mulan (Mulan)
9. Tiana (The Princess and the Frog)
10. Rapunzel (Tangled)
11. Merida (Brave)
12. Moana (Moana)
Make a Disney Theme month. Each model have their own character 🙂
Guest
Yeah, i'm pretty sure Katrina updating once every 2 weeks would be way better than how long it is now. Man, it was so amazing when she was Model of the Month! I think she's so freaking hot.
Guest
New Katrina anytime soon? Let's do it TM.