Jesse – Perfect Peeks
$11.95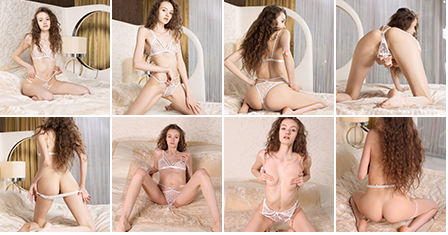 Description

Amount of photos in album: 178 pictures
Resolution: 4480 x 6720
Video Resolution: 1920×1080
Length: 8:40
Video Thumbnails:
Above.
Got something to discuss?
---
Guest
I am in!!! Just Ordered….. Love to see her do a Chair Straddle like Destiny which I ordered
Guest
It seems that, thanks your support, she will be regular model. 🙂 so do you have any wishes for her next shoting?;-)
Guest
Any chance of a duo with Destiny at some point in the future?
Guest
Yes, sure. Then are from same area. 🙂
Guest
Guest
How many sets are already shot? I'm fine with her taking her time to show "everything" so maybe a peek here and there like Lili did over the years. Jesse is my favorite new model in a while – she's just got a look to her that I find very appealing. Lili is still my queen, though. 🙂
Guest
I am sure, that you will be happy. 🙂
Guest
I am so happy to hear this news. Thank you Jesse for deciding to join the Marvel Family and sharing your Amazing Beauty with us. You have the perfect naughty moves to go with your perfect looks. May you stay with us for Many Years to come. Thanks also to the photographer and MA for bringing Jesse to us.
I would simply Love to always see her in front of a mirror (for a full 360 view) progress to:
4k, longer video – especially with Jesse's voice
More sheer (less obstructive) clothing (if NN)
Bath / Shower / chocolate / cream / milk (Kitty)
Bound / gagged / cuffed / blindfold / whip / collared / choker / tickled (all solo or duo)
Fully Nude (Unleashed)
Play with herself (Touchy) – including using toys
Foxy (tail plug)
Plugged (progressing to Kriss's level)
Action duos with other tight body girls or curvy girls (or, better yet, her best friend like Cutie did) (e.g. Madison & Victoria, Caroline & Daniela, etc) – as always Kayley cums to mind as matching Both criteria! (I know that I am Dreaming, but you asked)
Of course, the above is my wish list for All of the models 😉
Support
Half of these aren't happening. 😆
But a good attempt from you!
Guest
Thank you for ideas. 🙂 Something we can do now, something later, and well you know, that every girl is different so some stuff with some models are not possible, like .. never.
Guest
Her first set was great, but this is even better. Can't wait for the next set.
Guest
this is a hottie all right (new favorite).
looking forward to see a lot more of her, a duo with naomi will break TM
Guest
Whatever direction the sets of Jesse take, there just has to be one with her posing near a big fan. Her hair already looks great, but in full flow would look quite magnificent.