Jasmine & Sabrina – 2 For 1
$11.95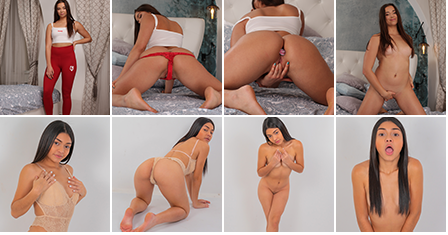 Description

Amount of photos in album: 227 pictures
Resolution: 3744 x 5616
Video Resolution: 1920×1080
Length: 18:59
Video Thumbnails:
Above.
Got something to discuss?
---
Guest
It nice to see Sabrina back in action again after a very long time. Plus we got to see her in her full glory (uncensored) 😉 . Please more updates from her
Jasmine, I believe this set was shot by my favorite photographer :). It's always nice to see new faces and new looks different from what we usually see here. Correct me if I was wrong photographer, but she is not 100% European maybe half Latina or Indian. This girl reminds me a bit of Belle. Personally, I like her and I hope to see more updates from her soon 🙂 . Another nice catch thanks. However, I will not get too excited about her as I am not doing the same mistake I did with Nicky. Let's see what other fans think about Jasmine. I hope that the comments are still pending waiting to be approved by TM.
Guest
I hoped, that you like me the most. 🙁 😉 Anyway, this Jasmin is not from me, I like her, but she looks that she will be really latina, and thats half world far from me. I shoted this time Sabrina. What is really sexy dirty girl! BTW: about Nicky – she is native seducter, she has it really in her blood so I belive, that its just matter of time, when she will get more attention.
Guest
Well if you will invite me to your Charlotta's photoshoot, you will be top of the list forever 😉 😛 . I hope you are right about Nicky. She is worth supporting. I do not understand why lack of support for her from the fans. I think that Sabrina & Nicky will not continue due lack of support. Photographer, does Nicky model outside of TM? if she did can you let me know please I really wanna see and support her career.
TM, they're something I wanna argue about. Supply and Demand, I understand that if there is no support the model will not continue. Nobody can argue with that. However, I do not understand waiting 7 months to release her next update!!!. How many new fans do you get in the next 7 months? that these fans will make a difference. In past experience, I have never seen a model came back after a lack of support. You just losing credibility when it comes to quest models. Mostly everybody knows that the models do not come for shooting only for 1 or 2 sets they do a minimuim of 5 to 6 may be more depends on the model. For the models that will not continue why not release them in a short period and move on, For me when it comes to the new models I do not know who will continue who will not I only predicted by comments and how long it takes for the next update. Even if I tried asking in private I either get ignored or get a mysterious reply!!!. When I do buy sets from the models I believe they will not continue, I do not buy them beacuse maybe there might be a chance to come back but mostly to make an interest to release what you have left for her. If you're not planning to release what she had left or waiting 7 months to a year to release them what's the point in buying it then!!!. Your website needs big changes when it comes to updates.
Thanks for reading 🙂
Guest
Shoting of Charlotta will be this Wednesday. If you will guess where, you can come to see. 😉
About Nicky – I belive, that she don't have any OF or anything like that.
And your question about frequency of updates of new models. Of course that you have a good point. But we don't see a whole picture, we don't have all data like boss. So maybe its like, that boss will try publish new model, but there is little interest, so he will wait some time and try again and then he will see what next. You have to understand, that its pointless for everybody publish more often girls, which members don't care so much. But I know, that boss is doing the best for finding best balance between all models.
Support
Don't give them too much info. Maybe I will show up. 🙂
I don't look at just data. I look at models who have potential and are interested in giving the fans what they want. A good example is Caroline or Diana. They originally were not very successful, but now at least get some updates every now and then. A lot of reasons for this, but a big reason is seeing their improvement, along with it just taking a lot of time for people to warm up to them. We know that a long term strategy works for the website, and that's part of the reason we don't push everything out at once. It will never be quick enough because we can't keep up. But we have plans, if you are patient…
Guest
New models are always more than welcome to me. As much as I love certain models, it's always refreshing to see a new face. Every favorite model has to start somewhere!
Guest
Photographer, If wasn't for the Pandemic I was up to it 🙂 . From all the models that I support do you think I choose Charlotte was a coincidence 😛 , think again my friend think again 😉 . There is more than meets the eye 😉 . Please say Hi to Charlotte for me 🙂 I hope there is a gift for me waiting 😛 😉
Thanks
Support
I edited your post for privacy reasons.
The models are under contract or we provide them safety unlike other websites. The models that don't make it, well they are free to do other things, but a lot of times other opportunities involve things other than just modeling if you know what I mean. Most are not okay with that, it's a tough job for the girls.
Guest
Yes. Nice. I would also Like to put in a Good Plug in Sabrina – ahem – I mean For Sabrina – here, there, or anywhere. I can travel on short notice – or no notice at all. Just let me know when and where and I will be there. What a Lovely and Beautiful Tease Sabrina is. Thank you Sabrina for sharing your beauty and playfulness – And Plug – with us. May you Always wear one. More, please.
As for Jasmine: her name and skin tone remind me of the tea. She is also as beautiful as the flower and looks as pleasant / pleasing as I find the tea to be. And as with the flower, she looks beautiful from every angle – front, back, sides…. I would just love to be able to compare her taste and smell in person. Please let me know when and where. I hope that she progresses quickly to the same level as our beautiful and talented Sabrina, and beyond. Thank you Jasmine for sharing your beauty with us and I am crossing my fingers that you will soon stop crossing your legs!
I hope and wish that Marvel and the Photographers will be able to bring us more Plugged up Girls and to share their repeated plugging and unplugging (along with the obligatory repeated plug likings) to us. Yes, I know that I just keep plugging for plugs….
Thanks to TM and both photographers for bringing us both of these Beautiful Ladies. I hope to see more of both of them – preferably plugged – here, soon. I wouldn't mind if they had help getting plugged or were lending a hand to a girlfriend or two with a plug (or wearing a strapless dildo and using it to plug their girlfriends/ or to get plugged by their girlfriend) – hint, hint.
I know: I never ask for much (but Marvel Admin and photographers keep delivering). Thanks again to everyone – and especially to the Girls for their Bravery, Curiosity, and sense of Adventure.
More I say: More!
Guest
Lovely with some hot girls on here finally.. <3