Freya & Melissa – 2 For 1
$11.95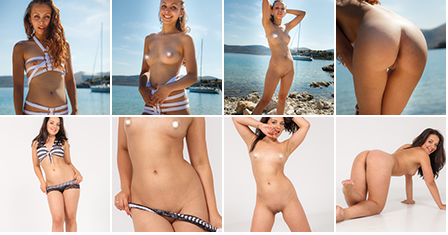 Description

Amount of photos in album: 232 pictures
Resolution: 3744 x 5616
Video Resolution: 1920×1080
Length: 20:17
Video Thumbnails:
Above.
Got something to discuss?
---
Support
Update to be more clear, classic month doesn't mean throwback sets only. It will be new updates too. Classic just means models who have years of experience here or elsewhere.
Kayley would count as a classic model, for example.
Guest
No offense TM but what makes this different from the normal months then!!!?. As most of the "models who have years of experience here or elsewhere." already have monthly updates!!!! ╮( ̄ω ̄;)╭
Support
Usually it's just Lili and Kayley. The idea is to update them but also update some of the other classics (like this update for those wanted to see more Freya).
Rather than a model of the month with a weekly update (4 sets per month), the goal here is to get at least 2 sets for most of the classic models. Fewer sets, but broader in how many models can update. At best, only Lili and Kayley would update at least twice in a normal month.
I hope that makes sense.
Guest
Oh okay, now it makes more sense thanks for the reply ٩(◕‿◕。)۶
Guest
Freya and Melissa are literally my two favorite models. They are both so incredibly gorgeous.
Are Freya and Melissa back from retirement?
Guest
and here I was thinking Lili's Prisoner of Love set took a while to come out 😆 😆
Very interesting month you have here TM. Did not expect this at all.
Guest
as soon as i saw the preview on the homepage i thought of andrew and max, and how much they yearn for the older throwback/archived sets so many sets they speak of. those gents are obviously speaking from much experience saying how many behind the curtain glimpses they both have teased us with, i speak of tributes of course (ultra massive understatement i know, see lili ice queen discussion thread for detail).
i would never want to break tm's rules regarding tribute content as tm rightly states they are treasures to be treasured and kept for private enjoyment but i really hope we get to see one of my recent tributes with glimpses of lili from behind.
tm, hopefully not to revealing/descriptive/borderline to post for the sake of titillation and arousal discussion?
regarding new classic month theme, started of wonderfully, cutie now freya wow i wish we had more of freya to look forward to? always wonderful her energy and of course those fucking tits and nipples and areola's, wow.
let the teasing and speculation begin boys, happy fantasy combination releases.
Guest
Yes i always enjoyed the classic models and classic sets, it reminds me of TM's very early days. Even if I focus on Lili i do like Freya and Melissa as well.
People already posting about it but the retro + new set for each girl is always a welcome combo. It definitely has my vote. I'm just not as big a fan of mixed bundles as some might be, but it should be a great month
Guest
Classic month is off to a good start! Very nice to see both Freya and Melissa again.
Guest
Great to see Freya and Melissa again! Is there any chance of a set from Luna this month too?
Guest
Will models repeat? "or" will they be like a single model bundle where there is a retro and new set?
Will love to see any Cutie NN stuff if their still around 🙂
Support
Retro and new is a good idea, we will see.
We are trying our best to satisfy everyone.
Guest
I second the retro and new bundle idea 🙂
Guest
Agreed with Solud Snake, any retro Cutie would be amazing. Especially from the porch/backyard days!
Guest
I third and I will raise you Petra, please 🙂
Guest
\o/ Freya !!! \o/ Thank You guys !
Guest
TM you have listened to my prayers, thank you thank you thank you for a Melissa post, she is the reason I came here.
Guest
Melissa is absolutely the sexiest and most beautiful lady
Guest
Will we be getting Cutie once or twice in April?
Guest
I'm hoping Katrina is a classic.
Guest
Please more Melissa!
Please!
Please!
Guest
I hope to see some of possibly unpublished stuff of Belle (Newstar Bambi). I know she finished with modelling, but I have a feeling there is a set or two which haven't been published yet.. 🙂