Daniela, Victoria, Madison – Bananas & Toys
$19.95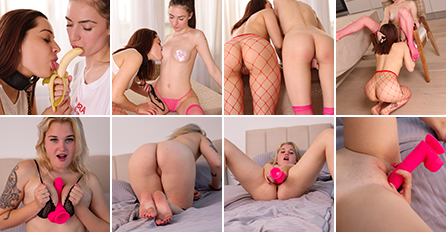 Description

Amount of photos in album: 401 pictures
Resolution: 3744 x 5616
Video Resolution: 1920×1080
Length: 19:28
Video Thumbnails:
Above.
Got something to discuss?
---
Guest
Guest
OHHHHH FUCK YES!!!! That's what I am talking about. Very excited to watch both Daniele and Victoria together. Thank you, TM and the Photographer 🙂 for this wonderful gift. I hope there will be more together 🙂 . Victoria shows that she is worth the support. I am very excited about her future 🙂 . Keep up the good work TM.
All the models here in the bundle are worth the support .
Guest
Wow! What an Amazing 2-for-1. What an Awesome Value!
Two Gorgeous Tight Brunettes Doing an Amazing Lez session. I hope that there is a Prt 2. They game me the Munchies (among other things)
And a Gorgeous, Horney Blonde just having some Fun. How I wish that I could give her a Hand (and then some). More, More!
A Long and Deep Thanks to Madison, Daniela and Victoria (in no special order) for two Fantastic sessions, and to TM/photographer(s) for bringing them to us!
With Alice's Fox Tail set on MC, let me take this opportunity to suggest a Fox Tail session (sing/duo) for these three (and all other) Marvel(ous) models. To plug/de-plug/re-plug, To Catch a Fox, Battle of the Foxes, The Fox Hunt (with some girls wearing Dog Tails / Leashes?). Just let your imagination Run! What Fun.
More, More of these Gorgeous Girls (wihtou sacrificing any other)!
Guest
WOW WOW WOW and a million WOWS!!!!!!!!!! . The chemistry between the two is spectacular. The kissing the licking OH MY!!!. This set made me explode like a nuclear bomb 😉 . I even forgot there is a double set. No energy left for Maddie. I will watch it tomorrow 🙂 . This set is a must buy . The set itself is worth the price 🙂 . An enormous Thank you to all who are involved in making this happen. 🙂
Guest
Thank you:-) Yes, this was fun. And this chemistry is real, they really enjoyed It So much. You will see more later 😉