Cutie – Wet
$11.95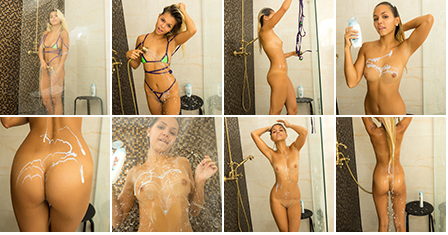 Description

Amount of photos in album: 152 pictures
Resolution: 4480×6720
Video Resolution: 1920×1080
Length: 10:13
Video Thumbnails:
Above.
Got something to discuss?
---
Guest
Would love to join underneath the shower
Guest
Thank you, TM. This made my month the sale and both Cutie Kitty and this one :).
Guest
Thank you Cutie! And thank you to the TM staff for making this set come to life
Guest
When you're ready come and get it. Nah nah nah. As soon as pay day hits I'm a gonna get this. Cutie is one of my favs.
Guest
I called it,a Cutie "Wet Set",made my day,thanx TM
Guest
I knew it was her and man she is always smokin hot. Naomi, Raine, Cutie, Sofie , Kris , Lilli, Veronica and the Whole MC AND TM Girls I'm not listing are a great pick me up to a dull day or night. The playfulness of the girls and I don't know what it is but they just do it for me. The teasing and pushing the boundaries lately by some of the girls is just a bonus. I mean sure we'd all love for them to be all out but what ever they are comfortable doing is fine by me. I like watching the progression of Naomi & Kris. They seemed shy at first but seem to be pushing their boundaries more and more. You got Lilli & Melissa who have been amazing thru the years and were 2 of my original Favorites when it came to the Online NN scene. I would love for her sister to be on this site as well as I am sure many others would too. Bella K from CD would be a dream come true for me. I can't forget Phoebe From MC man oh man she is really hot too and would def like her on this site. I've seen and been on other modeling sites & forums thru the years but the girls on these 2 sites are top notch and I for one am glad that this site and MC are around. Sorry for the long rant & review but these Girls are Amazing and Deserve our Praise :).
will be buying this, Maddies new one and 10 & 11 when they come out. I wish there was a way to buy from both sites under one basket. That way I could keep the purchases down 🙂
Support
Thanks for your kind words. We always do our best to make things magical, like a Disneyland for adults. 😆
Guest
I would love for Melissa and Bella to come back.
Guest
You spoke my mind,it was Melissa and Belle that lead me here and in the ensuing years I've not been disappointed by the product that both TM and MC have put out. I too would love to see Bella K here as well as a couple of the models from the Dream Studio group. Looking forward to Katrinas' last MotM set so bring it on TM,I still have some $s left to spend. 🙂
Guest
I'm down to a torso……TM has cost me my arms and legs during this event and the end is nowhere in sight. : )
Guest
Can you refund my hands so I can enjoy them?
Guest
Amazing pics and video, cutie and TM never seem to let me down. I would love to see Kayley in a bikini like this as well as a set like this one
Guest
Damnnn I'm gonna need this one and the Madison set… I can't wait to get paiiiid
Guest
Love that smile. Looks like a great video.
Guest
Cuite always makes for a fun set.