Petra & Lilith, Madison & Cutie – Duo Fun
$16.95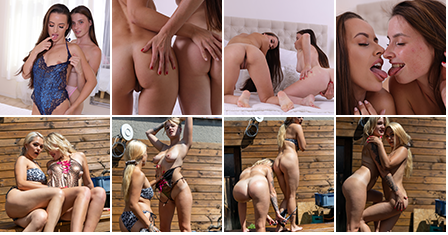 Description

Amount of photos in album: 327 pictures
Resolution: 4480 x 6720
Video Resolution: 1920×1080
Length: 19:19
Video Thumbnails:
Above.
Got something to discuss?
---
Guest
Petra!!! …and… Lilith!!! …and Maddy and Cutie, too! I didn't even guess on the last two because I thought Petra would never do a duo set… and what a wonderful looking duo set it appears to be! and part of a duo mini-bundle! Amazing! It's a new year's miracle!!! Thanks TM!
Guest
admin im missing kayley saying happy new year and marry christmas…will kayley speak again?
Guest
Wow now this was completely unexpected! Fetching wallet… A double duo, with Lilith as a cherry on top. 🙂
Guest
I am missing Naomi in these unlocks…hopefully she will be level 10??
Guest
Lili for lvl 10, please !!! 🙂
Guest
From the start I was asking for Lilith duos. Never expected Petra though. Amazing! Now ofc I hope to see more lesbo play of both 😀
Guest
ok. you gotta at least give me partial credit or a bonus point for my guess on this one, TM 🙂 Petra with Lilith? wow I don't think anyone could have seen this cumming. It's quite a surprise to me at least, and looks pretty hot. I would even buy the set that I missed this event if Santa brings me you know who for level 10. I think I've been a patient boy this Christmas. but yea, great bundle here. People will be pleased with this one I think. Happy New Year everyone.
Guest
From the comments on here we need a big Naomi/Kayley/Lili/etc bundle for level 10!
Guest
That was a sweet suggestion…
Guest
Guest
Guest
This is the hottest and steamiest non-explicit duo ever released so far. Lilith is amazing in these duo sets, because she truly looks like she is really enjoying it, not just pretending. And she is just so sweet and naughty at the same time… Thanks TM for making this set!
Now I can't wait to see Lilith with Daniela… Please TM make it happen! 🙂