Diana & Lilith – 2 For 1
$11.95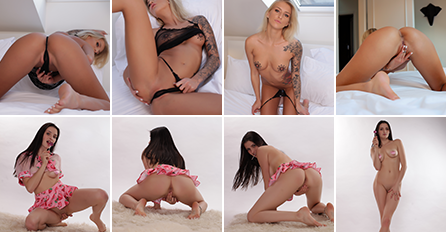 Description

Amount of photos in album: 219 pictures
Resolution: 4480 x 6720
Video Resolution: 1920×1080
Length: 19:12
Video Thumbnails:
Above.
Got something to discuss?
---
Guest
Just WOW!!! Been waiting for this kind of release from Diana. What a gorgeous, fit & sexy model. And Lilyth is incredible in only her second set on TM delivering a very sexy tease. More of both of these girls soon…please!
Guest
This is not 2 for 1.This is all in 1!!!!!I want those sets so bad!!!!!
Guest
Further progression from Diana and a promising set from Lilith. The way Diana teases is amazing and I can't wait to hopefully see her fully unleashed in the future.
Guest
I really wish some of the models would quit it with the tattoos. Small ones are fine but an entire arm covered with them? Both tits? Sorry, but no thanks. I don't find anything about it sexy or appealing.
Support
Her breasts are not tattooed, but it probably looks like it from the preview.
While I prefer no tattoos like most people here, I enjoy Diana's look and posing. I think it took some time for people to get used to her, but now she is very popular among fans. But I don't disagree with you, it sucks most of the time.
Guest
I just want some of her scenes from cruel released uncensored, like her getting her pussy licked…because damn it that really really needs to be out there..
Guest
I very strongly agree. Once they get tattoos, they should quit posing for websites called "Teen" and should start posing for the "MILF" websites. Many of us followed the original girls here from their "innocent silver" days. We don't want this website to become a "MILF with hardcore tats" website. "Teen" Marvel signifies "innocence". It doesn't signify tatted up druggies with daddy issues. We can get the hardcore already elsewhere, that's not why we are here. Take this girl and compare her to say Isabella. Do you really think she should be in the same line up of talent as Isabella?
Support
I will agree that we don't want to become that type of website. However I do not like the idea of lumping all girls with tats together. Diana has a strong work ethic, exercises daily (a killer body), and a good personality. We do our due diligence when deciding who shoots for us. A model with tats, when casting, has to go above and beyond to make us happy, because we know that it turns off some fans. I think she is one of the only models who has done a very good job despite the problems some fans have. 🙂
And yes I would say she could hold her own with a girl like Isabella. But she's more like Kira. If you like Kira, you would like Diana.
Guest
The thing that always surprises me about models getting tattoos is that they literally make a living out of how attractive they are. Anything that makes them less attractive – like having disfiguring tattoos – makes them much less appealing as a model because most potential customers aren't fans. So why do it? It's a bit like a singer deliberately damaging their voice then wondering why no one buys their songs.
Support
Yes this happens too. A lot of these body choices are deeply personal. Tattoos can be for remembrance, personal beliefs, or self esteem. I try not to question it too much… we recommend our models to not get them, but we can't control their body or beliefs. When I speak to models or just people in general with tattoos, they say it helps them feel "complete". That's why it's really hard to change their minds on things like that.
Guest
now i'm praying for a Caroline and Diana set that pushes the envelope. two incredibly sexy tattooed ladies kissing, sucking boobies, fingering… yes please!!!!! OXOXOXXXXX
Guest
It seems, that you can see the future. 😉
Guest
I love girls with Tats, super sexy. Diana could use her own site if shes willing to go to the extreme OXOX She's smokin hot
Guest
Tattoos or not, Diana is smoking hot. That tight body speaks for itself, but her poses are incredible! And she has gorgeous eyes to boot. One of the sexiest girls on here IMHO.
Guest
Well I love tattoos on girls. We going to stop having girls that have certain hair styles next Walrus? She's amazing and I hope she continues to shoot… and gets more tatts 🙂
Guest
Diana is one of the best models on here for her content. Constantly keeping it fresh (unlike another similar model) and always sexy as hell. Think this set is a steal for the price and you even get a set from Lilyth, one of the new up and comers.
Guest
Lilith & Phoebe duo !!?? <3
In the same Outfits with pasties? One can dream…
Guest
TM I don't get what the purpose of the comment section is anymore. So much negativity towards the girls. I sincerely hope none of the girls read these comments. Some people are stuck in the 1950s, that's probably when they were born anyway. Which also makes them the models grandads ages in some cases. Keep talkin up that innocence though. Right. Now of course some of you may be offended, think how the girls feel when people say such disgusting comments about them, to their FACES. Calling them druggies or disfigured yet still a lot of the same desperate people think they would have a chance with the girl. They are entitled to do whatever they want with their body okay? Don't like it, don't buy it then. No one needs to see such gross comments.
Support
Most comments aren't directed at our models, just tattoos in general. And I agree with you, of course nobody would say this type of stuff to their faces. But they are safe behind the computer. 😉
Guest
What I would say to any female's face is this:
Your body is like a beautiful painting. Like the Mona Lisa. Why would you spray paint graffiti all over the Mona Lisa?
Guest
Girls are crazy. But honestly, that's what we love on them 😉 I can tell, that Diana is super nice and pleasant person. And maybe its becouse she is feeling much better and more confidently becouse of this pictures on her body. I am not fan of tattoos, but if is girl otherwise amazing, who cares about some details. 😉
Guest
I do. Sorry, but I just find the tattoos really offputting. No matter how hot a girl is, if she's got that many tattoos, it's just a big no for me. The only girl with tattoos on the site I've bought is Caroline and as much as I enjoy her photos, the tattoos just make her so much less appealing. A photoset of hers would have to be absolutely out of this world mind-blowing for me to consider buying another.
Guest
I think Diana's amazing and will continue to support her sets. Appreciate your work with her thus far.