Destiny – Wet
$11.95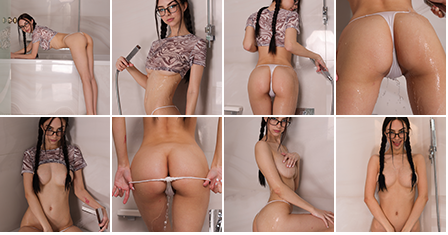 Description

Amount of photos in album: 111 pictures
Resolution: 4480 x 6720
Video Resolution: 1920×1080
Length: 8:41
Video Thumbnails:
Above.
Got something to discuss?
---
Guest
Destiny is a stunning beauty! Speechless… please continue, TM. 10 out of 5 Stars 🙂
Guest
She is my new favorite by a longshot on TM. Simply amazing.
Guest
I understand you so well. 😉 I can share with you, that honestly I can't still belive, that she is real..
Guest
Destiny is really cute!
To me she looks more like a Marvel Charm girl to be honest.
Guest
I had same feeling, but boss explained me, that its pointless where she will be published, and thats totally true. 🙂
Guest
I think you've really stumbled across something special with Destiny.
Get her on whatever Leidy's leg routine is and she'd be borderline perfect.
Not sure if sales data backs this up but to my eyes she's got dedicated site potential.
Guest
Nothing doing here…just passing through…stops…looks again…jaw drops and knees go weak. Wow!
Destiny is like one of those girls you knew in school, or pass in the street, without giving a thought. It's only when you stop and give a second look that you see what you missed. Cute, nerdy, cheeky, elfin or just outright attractive, she has one of those faces that fits so many moods and cheers you up however bad your day is (had a similar reaction to Phoebe at MC).
Straight on my shopping list and bookmarked so Destiny doesn't pass by unnoticed again.
Guest
I have to agree with others – Destiny is simply stunning. Well done on recruiting such a beauty, and I really look forward to seeing what comes next!
Also, Destiny Bundle #1 has a nice ring to it, just saying…
Guest
Remove the glass for a set..