Welcome to the Christmas Event! From December 15-31st.
The Marvel Christmas Event is here! Not only are most products 50% off, but we are also introducing a new system that is now live for this event. Here's how it works.
Order Tracking
We have implemented order tracking for those customers who were having trouble receiving or wondering where their orders were. Follow this link to start tracking your orders:
http://www.teenmarvel.com/order-tracking/
You can also visit the order tracking page at the top of our website right next to the contact page. To track your order, you will need to input the order # you received at checkout and the e-mail you used.
Once you click "track", you will be presented with the confirmation page seen after your initial checkout. The important info you should look for is here: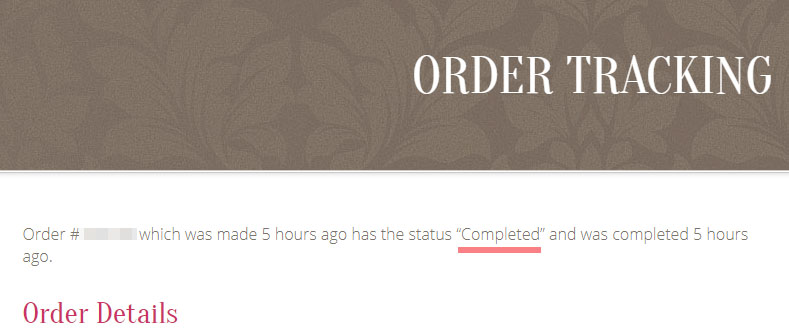 The highlighted text is what to look for. This can change between the following statuses:
Completed: The order has been completed, and you will be able to download your sets on this page or in the e-mail sent to you.
Failed / Refunded: Both statuses mean your order failed and was refunded.
Cancelled / On Hold: Your order is going through verification. Cancelled does not mean it failed, it is simply on hold until we get to your order.
If your order stays on Cancelled / On Hold for longer than 24 hours, contact us and we will solve the issue as fast as possible. If you want to know the reasoning behind a failed / refunded order, you can also contact us.
Level System
You'll notice on the front page, right below the first image you see, will be a progression bar with a percentage attached to it. How it works is simple. The progress bar fills after each purchase made by the community during this event, with larger purchases having a bigger impact on how fast the bar fills. Leaving comments will also contribute in a small way to improving the level. Once it fills to 100%, a new level is reached. Every level up releases an extra update to the site. Currently, there is no limit to the amount of levels achievable, but we must stress that a higher level does not mean a "better" set. It's just extra content that you will definitely want to see! Will you do your part in helping our models, as well as the community (and yourself)? Let's see how high we can go!
Rules Simplified:
-Progress to the next level goes up when you buy sets and leave comments (no spam allowed).
-An extra set is released when reaching a new level.
-Everybody is the same level. The level you see reflects the community as a whole. Everybody sees (and gets) the same content.
-There will still be regularly scheduled updates. These will be additional releases!
Tribute
For those that have all the sets they want but still want to assist in this community effort, we are giving you the option of making a tribute. You will not receive a product, but a tribute will assist in level progression tremendously. We don't expect many of these, and you will need to contact us directly if you wish to make a tribute (max tribute allowed: $100).
How to Use Coupon Code
After adding sets to your cart, look for the coupon information on the left side of your cart page.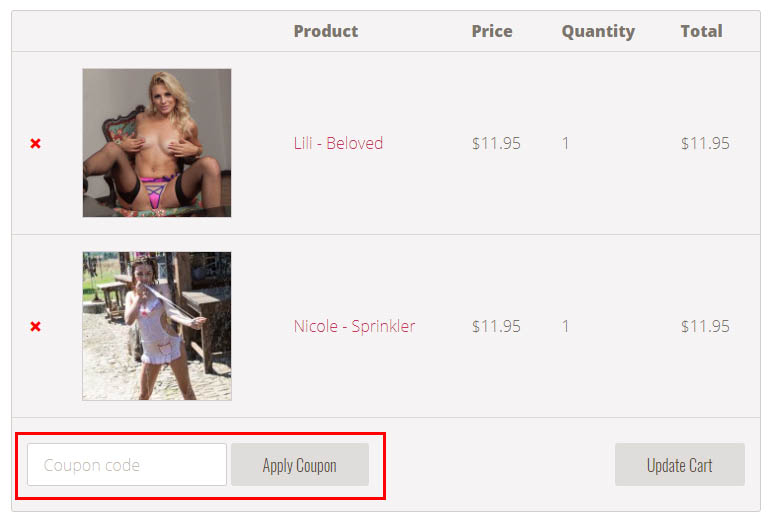 Click on the left box next to "Apply Coupon" like the image above shows and input your code. In this case, use the code: marvel50.
Press enter or click on "apply coupon" and that's it. If the coupon does not apply, this means your original order does not total the minimum of $20, or you have a set that is not compatible with the coupon.
Restrictions on Coupon
The following sets are not compatible with the coupon code:
Petra – Holidays
Kris – Pink Lace
Kayley – Sweet Queen
Julie – School Girl
Cutie – Clear View
Lili – Bundle #3
Naomi – Mirror Sequel
Lili – Grand Prize
And any new sets coming to the site.
If you do not receive your set within 24 hours, please use our contact form and provide your order number.