Welcome to the Spring Event! From April 11-21st.
We are happy to announce that the Marvel Spring Event is here! Not only are most products 50% off, but we are also introducing a new system that is now live only for this event. Here's how it works.
Level System
You'll notice on the front page, right below the first image you see, will be a progression bar with a percentage attached to it. How it works is simple. The progress bar fills after each purchase made by the community during this event, with larger purchases having a bigger impact on how fast the bar fills. Leaving comments will also contribute in a small way to improving the level. Once it fills to 100%, a new level is reached. Every level up releases an extra update to the site. Currently, there is no limit to the amount of levels achievable, but we must stress that a higher level does not mean a "better" set. It's just extra content that you will definitely want to see! Will you do your part in helping our models, as well as the community (and yourself)? Let's see how high we can go!
-Everybody is the same level. The level you see reflects the community as a whole. Everybody sees (and gets) the same content.
-The levels on TM and the MC website are separate.
-There will still be regularly scheduled updates. These will be extra releases!
Tribute
For those that have all the sets they want but still want to assist in this community effort, we are giving you the option of making a tribute. You will not receive a product, but a tribute will assist in level progression tremendously. We don't expect many of these, and you will need to contact us directly if you wish to make a tribute (max tribute allowed: $100).
How to Use Coupon Code
After adding sets to your cart, look for the coupon information on the left side of your cart page.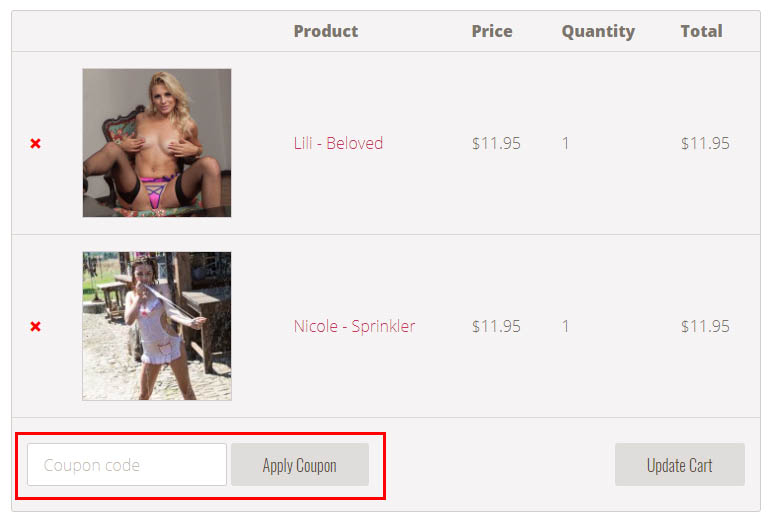 Click on the left box next to "Apply Coupon" like the image above shows and input your code. In this case, use the code: marvel50.
Press enter or click on "apply coupon" and that's it. If the coupon does not apply, this means your original order does not total the minimum of $20, or you have a set that is not compatible with the coupon.
Restrictions on Coupon
The following sets are not compatible with the coupon code:
Sofie – Black Mesh
Raine – Love Straps
Cutie – Rose
Naomi – Happy Easter
Lili – Enchanting
Katrina – Pristine
Kris – Secretary
Madison – Pink Sling
Petra – Intimate
Cutie – Beauty
And any new sets coming to the site.